Downtown Sykesville Sippin' On Summer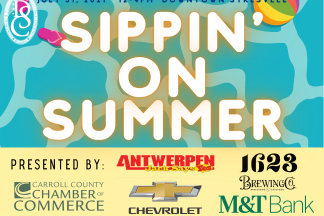 #GetSyked for the first-ever Downtown Sykesville Sippin' On Summer Block Party brought to you by the Downtown Sykesville Connection. Join us on July 31st from 12-4PM for an array of unique hard seltzers, awesome beers, and summer fun all right here on Sykesville Main Street!
Fun Fact: The name of this event was actually chosen by the community via social media polls!! What a fun way to celebrate a new event!
Stay tuned for more information about attending vendors, artisans, and activities.
Visit our event webpage for more information.
Thank you to our sponsors:
Antwerpen Chevrolet: https://www.antwerpenchevy.com/
M&T Bank: https://locations.mtb.com/…/bank-branches-and-atms…
1623 Brewing Company: https://www.1623brewing.com/
Carroll County Chamber of Commerce:https://carrollcountychamber.org/
Event Contact
Troy
Event Details
Saturday, July 31, 2021, 12:00 PM – 4:00 PM
Location
Add Event To Your Calendar