Holes: A Puppet Anthology Film Premiere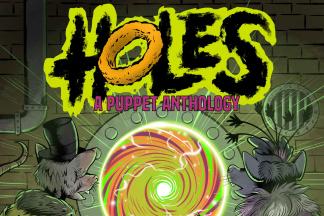 The Baltimore Rock Opera Society is proud to present our first feature-length film! Holes: A Puppet Anthology!
We've collected all of the amazing short films created for the 2020 Puppet 6-Pack into one cohesive film. Starring Mama & Papa Fink from the 2015 Rock Opera 6-Pack show RATS! in a new and exciting framing story, Holes: A Puppet Anthology will take you on a big screen puppet adventure the likes of which you've never seen!
Rat duo Mama & Papa Fink are celebrating their Rattiversary when they accidentally drop the traditional gift - a giant onion ring - into a nearby Baltimore sewer grate. Found by the nefarious Moleman, he repurposes it for his Molemobile and takes off! Will the Finks be able to catch him and regain the symbol of their love? Join them as they embark on a high-octane adventure beneath the city exploring nooks and crannies, meeting unexpected characters, and finding more than they bargained for!
TICKET INFO
We're offering tickets for both the in-person premiere event, and for an on-demand version of the film that you can enjoy at home at your leisure, but why not have it all? Get the Holes Bundle for only $30 and enjoy both the premiere event AND the on-demand film!
OTHER INFO
- Concessions WILL be served
- Despite the lifting of restrictions, for the safety of our volunteers and attendees COVID-19 guidelines will be observed and enforced. That means masks are required when not eating or drinking and the theatre will be limited to 2/3 capacity.
- FREE parking is available at the gravel lot diagonally across the street and next to (not behind) the Staples on York Rd. Street parking is also available.
- Doors will open at 6:30 PM and the show will begin at 7 PM.
Teaser trailer for Holes: A Puppet Anthology
Event Contact
Tyler Merchant
3015145836
Event Details
Thursday, July 15, 2021, 7:00 PM – 9:00 PM
3015145836
Location
Add Event To Your Calendar