Kerplunk! Dog Days of Summer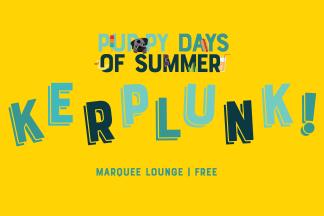 Kerplunk! Family Art Drop-in Class: Great for younger kids and families! Come join us in the Creative Alliance Marquee Lounge to create some summertime art projects and beat the summer heat.
Register HERE for a guaranteed time slot. Limited capacity. Walkins also welcomed.
To maintain healthy protocols, masks must be worn over nose and mouth. Families will sit at individual tables spaced out. Individual art kits will be given to each family and lounge doors will stay open.
-----
¡Kerplunk! Clase de arte familiar del sábado
En persona - Creative Alliance, Marquee Lounge
SÁBADOS | JUL 3 - AUG 28 | 12:30 - 3:30PM
Los 'días de los perros' del verano¡Kerplunk! Arte familiar que no requiere cita. ¡Es fantástico para niños de edades menores y sus familias! ¡Júntense con nosotros en el Marquee Lounge en Creative Alliance para crear proyectos de arte veraniegos y escapar el calor del verano!
JUL 3 | Pool Noodle Fireworks & Sculpture Project
JUL 10 | Special session/time from 3-7pm at Tianquitzli | Relief Printmaking: make a composition with foam shapes of mole ingredients
JUL 17 | Kinetic Puppy Sculptures
JUL 24 | Pour Painted Planters
JUL 31 | Bedazzled Sunglasses
AUG 7 | Suncatchers
AUG 14 | TBD
AUG 21 | TBD
AUG 28 | TBD
Event Contact
Event Details
Repeats weekly Saturday -- until Saturday August 28, 2021.
Free
Add Event To Your Calendar