Ari & The Buffalo Kings: Album Release Party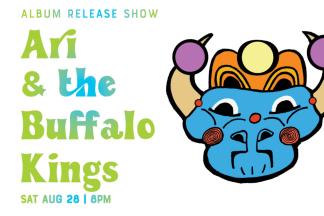 Hitting the stage after spiritual benders and years spent in conservatory, Ari and the Buffalo Kings, along with very special guests, celebrate the release of their debut album! Their special brand of well-traveled folk lifts you up into shiny new heart spaces. You'll laugh, you'll cry, you may even open your third eye! Join us in-person, or online!
Ari calls his music "songs from the heart-mind". Using the very best in heart-centered technology, he paints words and weaves emotions through songs that celebrate, question, and bear witness to the joys and sorrows of our lives. His music grows from the sand and soil of his world travels and inner seeking and being. Through honest, genuine, and occasionally hilarious songwriting, he promotes the fearless experience of our every breath and the cultivation of our innate clear-seeing compassion and equanimity.
Ari and the Buffalo Kings is the singer-songwriter project of Baltimore artist Ari Pluznik, joined by flautist Danielle Williams, guitarist/bassist Gino Hannah, and percussionist Jim Hannah, featuring a variety of special guests. With honest, introspective, and often humorous lyrics, Ari and the Buffalo Kings play original music inspired by Spanish guitar, classical flute, folksy three-part harmonies, and rhythms from around the globe. Ari and the Buffalo Kings have performed throughout Baltimore, most notably as part of Creative Alliance's Sidewalk Serenades series and Highlandtown Arts District Art Walk, as well as for Mobtown Live! Livestream and the CM Ball. Pre-pandemic, Ari and the Buffalo Kings held regular performances at Bertha's Mussels and Zissimo's Bar.

Event Contact
Event Details
Saturday, August 28, 2021, 8:00 PM – 10:00 PM
Add Event To Your Calendar