Hart GP Jazz Live Stream + In-person Concert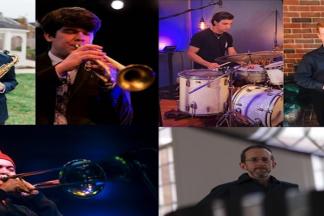 Hart Guonjian-Pettit, trumpet
Brendan Schnabel, sax
Christian Hizon, trombone
Harry Appelman, piano
Tom Baldwin, bass
Joey Antico, drums
Originally from Towson, MD, Hart Guonjian-Pettit is becoming one of the most sought-after young trumpet players in the area. Hart maintains an active performance career balancing such jazz idioms as hard bop, bebop and traditional jazz with classical chamber and orchestral engagements. His group, Hart GP Jazz, can be heard reinvigorating the classic bebop and hard bop style of tried-and-true legacy ensembles such as the Art Blakey and the Jazz Messengers band and other historical staples in the jazz genre. Hart has performed with Terell Stafford, Warren Wolf, Sean Jones, and Delfeayo Marsalis and many other fantastic local icons. He has studied with Chris Gekker, Chris Vadala, and Alex Norris and completed undergraduate and graduate study at the University of Maryland, College Park.
Brendan Schnabel is a saxophonist based in the Washington, D.C. area. He recently earned a Doctor of Musical Arts degree from George Mason University. Brendan is freelancing with bands such as Black Masala and Shamans of Sound, and leads the Brendan Schnabel Group.
Christian Hizon is an in-demand trombonist, educator and session player on the local music scene. A graduate of the Peabody Conservatory of Music with a degree in Bass Trombone Performance, he has studied and performed with numerous first-rate musicians including Gary Bartz, Sean Jones, Larry Willis, Gary Thomas, Alex Norris, Todd Marcus and the National Symphony Orchestra. Adept at many styles, Hizon has focused on jazz leading groups or performing as a sideman. He continues to perform and host a bi-monthly jam session at Baltimore's An die Musik Live. Hizon continues to develop his sound, blending the traditional jazz language with a modern compositional style.
One of the DC area's most in-demand jazz artists, pianist and educator Harry Appelman has performed on concert stages on five continents. He was chosen three times to participate in U.S. State Department music tours overseas and has performed at jazz festivals in Egypt, Morocco and Montreux, Switzerland. Mr. Appelman has played with many of the greats on today's jazz scene, including Eddie Daniels, Gary Thomas, Drew Gress, George Garzone, Jerry Bergonzi, Jim Snidero, Brian Lynch, and Walt Weiskopf.
Bassist, composer and educator, Tom Baltsin has been a fixture on the Washington DC area jazz scene for over 25 years. He has worked with a slew of prominent Jazz artists, including Eric Alexander, Peter Beets, Gene Bertoncini, Stanley Cowell, George Garzone, Tutti Heath, Fred Hersch, Brian Lynch, Harold Mabern, and James Moody. He appears as a sideman on over 30 recordings and is on the faculty at the University of Maryland in College Park and Baltimore County.
Joey Antico has quickly become a sought-after drummer in the greater DMV area. With roots are in jazz, Antico strives to bridge the gap of old and new music, staying true to the traditions of jazz while incorporating new ideas and electronics where they appropriately fit. As a gigging and touring musician, Antico has had the opportunity of sharing the stage with acts including BØRNS, Logan Smith, Peacherine Ragtime Society Orchestra, Chuck Redd, and Chris Vadala. In addition to his live performances, Antico works heavily as a studio musician and is on various albums of artists around the country.
A limited number of in-person seats are available for $20 each.
Please email [email protected] for stipulations.
Streaming cost is $10
Donations are welcomed.
The link will be revealed to you 15 minutes before the show
and will remain active through Aug 2
Event Contact
Event Details
Wednesday, July 28, 2021, 7:00 PM – 8:00 PM
Add Event To Your Calendar