Wu-Wednesday! Pop Up n Paint @ The Worlds First Mini Hip Hop Museum!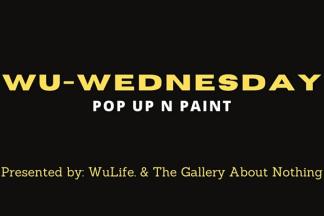 A One Of A Kind Creative Experience Inspired By Wu-Tang!
About this event
'In My Lifetime: Mini Hip-Hop Museum' is located inside of The Gallery About Nothing! This pop up & puff n paint is a collaboration with WuLife. Bringing you dope art and a creative experience like none other!
Starting @ 2:28 PM Wednesday afternoon for anyone who wants to come look around, paint, SUPPORT and enjoy the vibes! All art & merchandise will be for sale! For More Info, Call or Text: 410 504 9249
*No Wu-Tang Members Are Scheduled To Be In Attendance!
Event Contact
Event Details
Wednesday, July 28, 2021, 2:30 PM – 11:00 PM
Location
Add Event To Your Calendar