The Walters Gala 2021: Armor & Adornment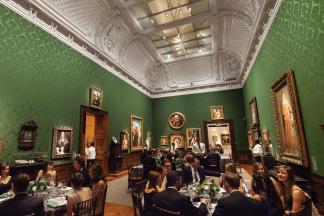 The Walters Art Museum will welcome guests back to the museum for its fall Gala. The Walters Gala 2021: Armor & Adornment celebrates the Walters' lustrous collection of silver, gold, and metal across the ages and the groundbreaking exhibition of Baltimore icon Betty Cooke.
Gala supporters will have the opportunity to choose between participating in an onsite experience and a virtual option. On Saturday, October 16, supporters and their guests can view the new exhibition Betty Cooke: The Circle and the Line and then enjoy dinner in the galleries. The virtual event on Friday, October 15 includes a tour of the Betty Cooke exhibition with special gifts enjoyed at home, based on level of support. Our organization is committed to providing a safe and healthy environment for guests, staff and vendors at this event. Necessary screening protocols and safety precautions will be implemented in order to keep everyone safe. In consideration of social distancing guidelines, the cocktail reception and Party are not being planned for the 2021 Gala at this time.
As the museum's largest fundraiser, proceeds from the Gala are essential to supporting the museum's mission and operations. Your support of the 2021 Gala will provide open access and free admission to our collections, in person and online. Sponsors strengthen arts education for families, students, and teachers, and enable the Walters' continued collaboration with local artists and partners to advance our region's creative economy. We invite you to make an impact on the arts in Baltimore and join us as a sponsor of the Walters Gala 2021.
Event Contact
Event Details
Saturday, October 16, 2021, 12:00 AM – 12:00 AM
Location
Add Event To Your Calendar