Crystal Moll Gallery presents 8th Summer Plein Air Show Reception / Painting Demo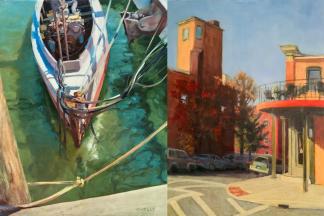 Join us for the Opening Reception for our 8th Annual Summer Plein Air Show featuring works by 41 regional artists. All of the works on display were painted on location, out in the elements, 'en plein air'.
Award Winning painter TIM KELLY will be on hand for a painting Demo from 3:30-5...
Wet Paint Sale: We have invited a bunch of artists to paint in the neighborhood that day - they will have their wet paintings on display and for sale out front of the gallery. Open to anyone who wants to paint
Featured artists Ann Schaefer, Amanda Milliner, Ann Crostic, Beth Bathe, Bruno Baran, Carol Cowie, Carol McClees, Crystal Moll, Dan Graziano, David Diaz, Eliner Elgin, Eva Rotolo, Gavin Bromell, Jane Knighton, Janice Kirsh, Jason Witte, Jill Banks, John Eiseman, Judith Tummino, Julie Riker, Karen Winston-Levin, Katherine Farrell, Kathleen Kotarba, Kristin Hill, Lissa Abrams, Mary Veiga, Matt Fenton, Meg Walsh, Michael Kotarba, Palden Hamilton, Paula Rubin-Wexler, Ray Ewing, Ray Hassard, Sarah Baptist, Stacey Sass, Stephen Wysocki, Susan Graeber, Thomas Bradshaw, Tim Kelly, Tom Bucci, and Tom Ritchie.
Event Contact
Crystal Moll
(443) 759-4235
Event Details
Saturday, August 7, 2021, 3:00 PM – 5:00 PM
Free
Location
Add Event To Your Calendar