From Slave to "Self-Taught Genius": Joshua Johnson the Fells Point Portraitist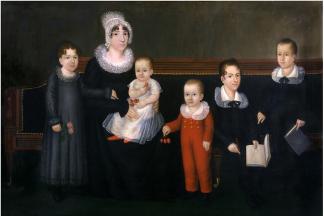 Joshua Johnson is recognized as one of the first professional African American portraitists in the United States. An interesting aspect of his work in the early Republic was the patronage he received from the newly emerging merchant class in Baltimore during the late 18th and early 19th centuries. In this behind-the-scenes conversation with Mark Letzer, President & CEO of the Maryland Center for History and Culture, learn more about the people Johnson painted in his Fells Point community, and explore the nationally significant collection of Joshua Johnson portraits at MCHC. Joining Mark will be guests David Taft Terry, Associate Professor of History at Morgan State University, and Daniel Fulco, PhD, Washington County Museum of Fine Arts Curator.
This virtual program is free and open to all audiences. Registration is required: https://www.mdhistory.org/calendar/fsk-from-home-from-slave-to-self-taug...
After registering, an automated confirmation email will provide connection instructions.
This program is presented as part of our FSK from Home Series—the virtual offering of our traditional Francis Scott Key Lecture Series.
Event Contact
Jennifer Michael
410-685-3750
Event Details
Thursday, October 14, 2021, 12:00 PM – 1:00 PM
Free
Location
Add Event To Your Calendar