Coffee, Patisserie, and Classical Music 2021-22 Series, part 4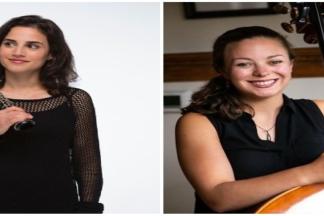 Coffee Patisserie & Classical Music 12.5.21
Nina DeCesare, bass
Katherine Needleman,
Nina DeCesare joined the bass section of the Baltimore Symphony Orchestra in September 2020 after five years playing with the Oregon Symphony. She has also performed with the Seattle Symphony, the Houston Symphony, the Knights Orchestra, the Sun Valley Music Festival, and the Oregon Bach Festival. Equally comfortable as a orchestral musician, soloist, and chamber musician, Nina regularly performs with Third Angle New Music, 45th Parallel, and Classical Up Close. Nina is passionate about teaching and mentorship and has presented masterclasses at Peabody Institute, the Boston University Tanglewood Institute, the Pittsburgh Bass Symposium, and University of Texas Rio Grande Valley. In the summer, she has appeared as faculty at KC Bass Workshop, the Twin Cities Bass Camp, and the Rabbath Institute Los Angeles.
Nina began playing the bass while studying with renowned pedagogue George Vance, later working closely with Ira Gold and Hal Robinson. In 2011, Nina made her solo debut with the Chesapeake Orchestra in Southern Maryland, performing the Vanhal Concerto. In 2014, Nina completed her Bachelor of Music degree at Rice University, studying with Paul Ellison. During her time at Rice, she spent her summers at the Tanglewood Music Center, Sarasota Music Festival, Moritzburg Festival Academy, Wabass Institute and Domaine Forget International Academy.
Katherine Needleman is a multi-faceted musician and native of Baltimore. She won first prize in the International Double Reed Society's Inaugural Commissioning Competition in 2020. She curates Coffee, Patisserie, and Classical Music at An die Musik Live. She explores the connection between composer and performer in this series, focusing on music that has been unreasonably under-programmed for various reasons. She performs as an oboe recitalist throughout the U.S. As a day job, she is an orchestral oboist, having performed as guest principal with all of the U.S.'s "Big Five" orchestras except for one and has been the Baltimore Symphony's principal oboist since 2003.
Coffee & Pastries at 10 am / Concert at 11 am
In-person attendance: $20 / $10 student*
Live-streaming access: $10
9-concert in-person subscription: $150 ($30 off)
9-concert live streaming subscription: $75 ($15 off)
Series dates:
Sat, Sept 4 / Sat, Oct 2 / Sat, Nov 6
Sun, Dec 5 / Sun, Jan 2 / Sun, Feb 5
Sat, March 5 / Sun, April 3 Sat, May 7
*Valid student ID proof required
Event Contact
Event Details
Sunday, December 5, 2021, 11:00 AM – 12:00 PM
Location
Add Event To Your Calendar