Coffee, Patisserie, and Classical Music 2021-22 Series, part 6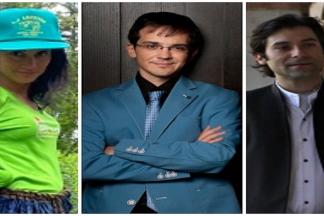 CPCM Series 2.5.22
Katherine Needleman, oboe
Lachezar Kostov, cello
Viktor Valkov, piano
Katherine Needleman is a multi-faceted musician and native of Baltimore. She won first prize in the International Double Reed Society's Inaugural Commissioning Competition in 2020. She curates Coffee, Patisserie, and Classical Music at An die Musik Live. She explores the connection between composer and performer in this series, focusing on music that has been unreasonably under-programmed for various reasons. She performs as an oboe recitalist throughout the U.S. As a day job, she is an orchestral oboist, having performed as guest principal with all of the U.S.'s "Big Five" orchestras except for one and has been the Baltimore Symphony's principal oboist since 2003.
Associate Principal Cellist with the Baltimore Symphony Orchestra, Lachezar Kostov has appeared as a soloist in some of the world's leading concert venues such as Carnegie Hall, The Kennedy Center for the Performing Arts, Gewandhaus in Leipzig, and Oji Hall in Tokyo. He was the National Winner at the 2006 MTNA Young Artists competition. Currently, Mr. Kostov teaches at the Catholic University in Washington DC, and at the Baltimore School for the Arts. He has studied with Aldo Parisot, orman Fischer and Bogomil Karakonov and has participated in masterclasses with Yo-Yo Ma, Steven Isserlis and Bernard Greenhouse.
Winner of the 2015 Astral Artists National Auditions, and Gold medalist at the 2012 New Orleans International Piano Competition, Viktor Valkov has been highly acclaimed by the critics as "lion of the keyboard" and "sensational". Among numerous chamber music and solo appearances, Mr.Valkov has also performed with the Louisiana Philharmonic Orchestra, Baton Rouge Symphony Orchestra, Acadiana Symphony Orchestra, San Antonio Symphony Orchestra, Columbus Symphony Orchestra, Springfield Symphony Orchestra, and West Virginia Symphony Orchestra. He is an Assistant Professor of Piano at the University of Utah in Salt Lake City.
Coffee & Pastries at 10 am / Concert at 11 am
In-person attendance: $20 / $10 student*
Live-streaming access: $10
9-concert in-person subscription: $150 ($30 off)
9-concert live streaming subscription: $75 ($15 off)
Series dates:
Sat, Sept 4 / Sat, Oct 2 / Sat, Nov 6
Sun, Dec 5 / Sun, Jan 2 / Sun, Feb 5
Sat, March 5 / Sun, April 3 / Sat, May 7
*Valid student ID proof required
Event Contact
Event Details
Saturday, February 5, 2022, 11:00 AM – 12:00 PM
Location
Add Event To Your Calendar