Sykesville Bubbles & Tulle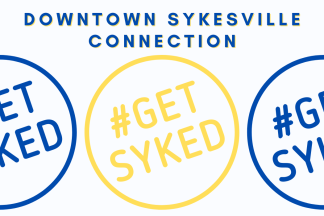 Sykesville Bubbles & Tulle Festival, on Saturday, October 9, 2021, 12 to 4 pm
Grab your best girls, slip on your wedding dress, a bridesmaid dress, or any of these fancy dresses whispering your name from the back of your closet. Enjoy a "pinky up" afternoon with our gorgeous historic Sykesville as a backdrop.
Our sparkling wines, cavas, and proseccos' sampling menu is as exciting and diverse as our live entertainment, local artists, and food trucks display!
Tickets are live!
(limited number)
Volunteer for the event:
https://www.signupgenius.com/go/5080c44aaa828a1fd0-bubbles
Vendor applications are available at:
https://downtownsykesville.com/event/2021-bubbles-tulle/
Contact [email protected] for details.
Detailed offering lineup coming soon!
Music: Baltimore's Wedding DJ
This event was made possible thanks to our sponsors.
- TITLE SPONSOR: Pin It Up Acupuncture
- PRESENTING SPONSORS:
Acts Fairhaven
S&K Roofing, Siding and Windows
The Downtown Sykesville Connection and the Town of Sykesville look forward to seeing you on Main Street on September 18, 2021!
Non-refundable, event is rain or shine.
NO PETS ALLOWED (Town Ordinance 301, which modified the Town Code. The Town Code reference for the "no pets or animals allowed at Town events is: Chapter 51, Article 1, Sections 51-1 through 51-)
*Information provided to the Downtown Sykesville Connection will not be used for any purpose other than the distribution and/or confirmation of receipt of tickets.
*The Downtown Sykesville Connection is not responsible for any situations that arise due to the Paypal transaction system.
*By attending the 2021 Sykesville Bubble & Tulle Festival, I understand that I may be photographed or videotaped for promotional or educational purposes.
Event Contact
Event Details
Wednesday, September 22, 2021, 12:00 PM – 4:00 PM
Location
Add Event To Your Calendar