Blue, Gold, & Buff: The Recreation of Tench Tilghman's Uniform with Historic Tailor Neal Hurst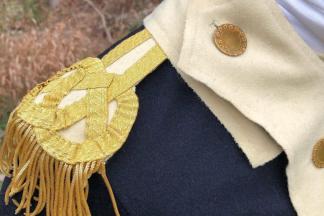 Go behind the scenes to learn how the rare surviving uniform of Revolutionary War hero, Lt. Colonel Tench Tilghman (1744-1786), was reproduced for the Maryland Center for History and Culture's latest exhibition, The Unfinished Revolution: Maryland in the Wars for Independence. Allison Tolman, Vice President of Collections & Interpretation at MCHC, will dive into discussion with Neal Hurst, historic tailor and Associate Curator of Costume & Textiles at Colonial Williamsburg Foundation.
Marylander Tench Tilghman was General George Washington's longest serving aide-de-camp, by his side for seven years. Tench's uniform, one of only two surviving officer uniforms from the Revolutionary War, is described as simple yet finely made. Learn what goes into reproducing such an extraordinary historical garment, what new discoveries have been made through the process, and why reproduction of the uniform is significant.
This virtual program is free and open to all audiences. Registration is required. After registering, an automated confirmation email will provide connection instructions.
Event Contact
Jennifer Michael
410-685-3750
Event Details
Thursday, November 4, 2021, 12:00 PM – 1:00 PM
Free
Location
Add Event To Your Calendar