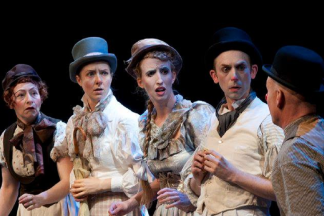 BrouHaHa
Happenstance Theater
October 28 – November 7
"The high level of ensemble work continues to impress. These multi-faceted actors/singers/clowns/mimes and movement artists are so attuned to each other, it's easy to believe they'd be inseparable when the world ends." – J. Wynn Rousuck, WYPR
"BrouHaHa is a terrific treat for fans of Happenstance Theater and those who stumble into the theatre by happenstance." – TheatreBloom
"Existential, avant garde, absurdist, ironic and non-linear…lyrical, endearing, vulnerable, stalwart and hopeful." – BroadwayWorld
"It is always a sheer pleasure to watch this group of actors perform." – MD Theatre Guide
Brouhaha: A state of social agitation when a minor incident gets out of control. Typically, it is marked by controversy and fuss that can seem, afterwards, irrational.
BrouHaHa is a comedic, existential escapade inspired by images of refugees fleeing on foot, Edwardian workers, cinematic treasures like Fellini's La Strada and Bergman's The Seventh Seal, and the dark comedy of Samuel Beckett. In this devised, clown-esque piece, Happenstance Theater's troupe of eccentrics walks the precipice at the end of the world. Their play lights up the darkness like a firecracker.
Featuring Mark Jaster, Sabrina Mandell, Gwen Grastorf, Sarah Olmsted Thomas, and Alex Vernon.
COVID Policy:
All patrons must show proof of vaccination for COVID or a negative COVID test taken within 72 hours of the performance.
All guests must wear masks while inside Theatre Project.
Seating will be limited.
If you have any COVID-associated symptoms the day of the show, please do not attend.
Showtimes:
October 28 @ 8pm (Pay-What-You-Can)
October 29 @ 8pm
October 30 @ 3pm
October [email protected] 8pm
October 31 @ 3pm
November 4 @ 8pm
November 5 @ 8pm
November 6 @ 3pm
November 6 @ 8pm
November 7 @ 3pm
Tickets:
General Admission: $25
Senior/Artist/Military: $20
Student: $15
Thursday, October 28: Pay-What-You-Can
Event Contact
410-752-8558
Event Details
Thursday, October 28, 2021, 8:00 PM – 10:00 PM
Friday, October 29, 2021, 8:00 PM – 10:00 PM
Saturday, October 30, 2021, 3:00 PM – 5:00 PM
Saturday, October 30, 2021, 8:00 PM – 10:00 PM
Sunday, October 31, 2021, 3:00 PM – 5:00 PM
Thursday, November 4, 2021, 8:00 PM – 10:00 PM
Friday, November 5, 2021, 8:00 PM – 10:00 PM
Saturday, November 6, 2021, 3:00 PM – 5:00 PM
Saturday, November 6, 2021, 8:00 PM – 10:00 PM
Sunday, November 7, 2021, 3:00 PM – 5:00 PM
410-752-8558
Location
Add Event To Your Calendar