BRAVE: Art in Times of Crisis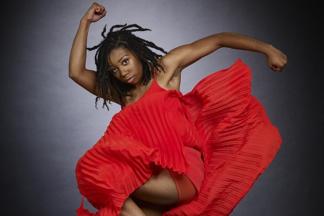 BRAVE: Art in Times of Crisis
By Full Circle Dance Company
November 13 & 14
BRAVE uses movement, music, and words to explore issues that matter right now in Baltimore and beyond – the role of protest in democracy, the challenge of the pandemic to individuals and communities, the history behind persistent inequality, and the courage of citizens who stand up against injustice.
Deeply moved by real-world examples of courage and resilience, Full Circle's multi-racial and multi-age ensemble of artists has created a performance aimed at both the mind and soul.
Some of the works in this show engage directly with the world around us, exploring experiences of bravery that are both personal and universal. Ancestors who stood for civil rights and broke new paths for women fill the stage. Ideas and body language inspired by very young protesters from the 1960s through 2021 energize the choreography. Visions of emergence from dark times reflect the resilience and potential for healing within and across our diverse communities. Throughout, BRAVE honors the qualities that underlie courage – honesty, fortitude, conviction, integrity, and compassion.
COVID Policy:
All patrons must show proof of vaccination for COVID or a negative COVID test taken within 72 hours of the performance.
All guests must wear masks while inside Theatre Project.
Seating will be limited.
If you have any COVID-associated symptoms the day of the show, please do not attend.
Showtimes:
November 13 @ 7:30pm
November 14 @ 2:30pm
Tickets:
General Admission: $22
Student: $15
Event Contact
410-752-8558
Event Details
Saturday, November 13, 2021, 7:30 PM – 9:30 PM
Sunday, November 14, 2021, 2:30 PM – 4:30 PM
410-752-8558
Location
Add Event To Your Calendar