BSO Presents Marin Conducts Rachmaninoff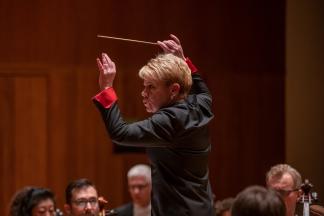 Maestra Alsop returns to the stage for the first time this season with the delightfully comic Till Eulenspiegel's Merry Pranks by Strauss and COLOR FIELD, a BSO commission and world premiere from composer Anna Clyne. Audience favorite Lukáš Vondráček reunites with Marin as he takes on Rachmaninoff's epic Piano Concerto No. 2.
Please note all performances may have a limited capacity due to COVID-19 restrictions. Capacity will vary by venue. Masking and social distancing are subject to change based on the latest public health and government guidelines and may vary by venue. For more information, visit www.BSOmusic.org or contact [email protected] or 1-877-276-1444.
Event Contact
Patron Support
410-783-8000
Event Details
Saturday, October 23, 2021, 8:00 PM – 10:00 PM
410-783-8000
Location
Add Event To Your Calendar