Kelly Walter at Hotel Indigo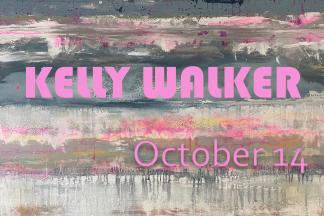 On View: October 13, 2021 - January 25, 2022
Opening Reception: Thursday, October 14th, 2021 | 6pm - 8pm
Hotel Indigo | 24 West Franklin Street | Free & Open to the Public
Maryland Art Place (MAP) in partnership with Hotel Indigo, are pleased to present new works by Baltimore-based artist, Kelly Walker. Walker's paintings will be hung in Hotel Indigo's library and Poets Modern Cocktails and Eats. The reception will be held on Thursday, October 14 from 6 to 8pm. The exhibition will be on view at Hotel Indigo Thursday, October 14 through January 25, 2022.
About the artist:
Kelly Walker is an American born, self taught artist who continues to study at the 'School of Life'. She found her way to Baltimore, Maryland by the age of 18 where she has lived ever since. Walker absorbs the beauty, chaos and reality of Baltimore City channeling it into her work.
In 2013, Walker purchased a rundown auto shop in the heart of the city. The building is located between the historic cultural arts district of Mt Vernon and the newly designated Bromo Arts district currently undergoing a neighborhood revitalization. In an immense labor of love, Walker transformed the downtrodden building into a live/work space that has been featured in Baltimore Magazine as a work of art in of itself. An art collection covers the inside walls, boasting of other local artists. The studio and apartment serve not only as a place of business and a home but sometimes Walker opens her home for gatherings which benefit community organizations such as Creative Alliances 'Art to Dine for'.
The dichotomy of Kelly Walker's world translates onto her canvases as she paints in fits of inspiration which has led to an expansive collection of unique series, committing spontaneous reflections of her mood and emotions to canvas. Walker's abstract paintings demonstrate the techniques, textures, and patterns she employs as a professional decorative painter. She pushes mediums past their intended purposes, encouraging them to collide and react, not rejecting happy accidents and forcing incompatible materials to meet. Utilizing a wide range of atypical materials, her works are intricately layered, calling reference to landscape, graffiti and color fields. Walker's artwork has been featured extensively at venues both in and outside of the Baltimore area, including the Rosenberg Gallery, Silo Point, Gallery 1951 in Los Angeles & Las Laguna Art Gallery in California and the Delaware Museum of Art."
Due to COVID and the ever changing social distancing landscape, we ask that all guests RSVP for the reception. Please contact [email protected] to reserve your spot
We hope to see you Thursday, October 14 from 6 - 8pm for the opening reception.
Validated parking is available at 15 West Franklin St. Garage.
Event Contact
Maryland Art Place
Event Details
Thursday, October 14, 2021, 6:00 PM – Tuesday, January 25, 2022, 6:00 PM
Free
Location
Add Event To Your Calendar