WEBINAR: Rebecca Brown, "Contemporary South Asian Art: Women Making History"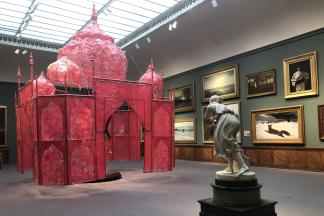 ONLINE PROGRAM THROUGH ZOOM
Contemporary South Asian Art: Women Making History
Rebecca Brown, professor and director of graduate studies, history of art and chair of advanced academic programs in museum studies and cultural heritage management, Johns Hopkins University
Dayanita Singh, Rina Banerjee, Anita Dube, Annu Matthew, Seher Shah, Bharti Kher, Naiza Khan, Jayashree Chakravarty, Dilara Begum Jolly. These artists are grappling with questions ranging from the plight of garment workers in Bangladesh to the degradation of the environment to the little known history of Indian soldiers in Italy during World War II. They have shown in and organized major international biennials, and we can finally see them with more regularity in museums here in the US, from the Museum of Modern Art and the MET to smaller gallery settings across the eastern seaboard and beyond. This talk introduces us to some of the leading women artists of the last two decades who have deep connections to India, Bangladesh, and Pakistan whose work speaks broadly to a global audience.
$15 door fee for guests and subscribers (no fee for members)
Contact [email protected] for more information.
Image information: Rina Banerjee, Take me, take me, take me…to the Palace of love, 2003, mixed media, 226 x 161 x 161 in, as installed at the Pennsylvania Academy of the Fine Arts, photo ©Deborah Hutton
Event Contact
Art Seminar Group
4108791947
Event Details
Tuesday, October 19, 2021, 1:30 PM – 3:00 PM
4108791947
Location
Add Event To Your Calendar