The Port of Baltimore: Gateway to Prosperity and the World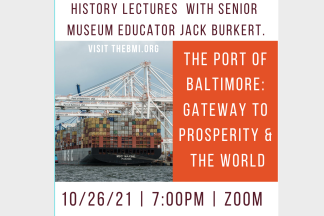 Were it not for the Port, there may have never been a Baltimore, or a Baltimore that any of today's citizens would recognize. As Baltimoreans, we have heard for years that the Port is the essence of the city. The Port is, was and has always been a source of prosperity for "The Queen City of the Patapsco".
Join us on October 26th at 7:00PM for an in-depth look at the history of Baltimore's port with Senior Museum Educator Jack Burkert.
Event Contact
Event Details
Tuesday, October 26, 2021, 7:00 PM – 8:00 PM
Free
Location
Add Event To Your Calendar