PERFORMANCE: Evan Drachman & Wan-Chi Su, "Schumann's Cello"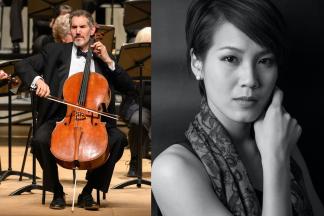 ART SEMINAR GROUP ONLINE PROGRAM THROUGH YOUTUBE LIVE
Schumann's Cello
Evan Drachman, cellist and artistic director for The Piatigorsky Foundation
Wan-Chi Su, pianist, doctoral candidate, Peabody Conservatory of the Johns Hopkins University
Robert Schumann was well known for his lieder and song cycles - Dichterliebe and Frauen-Liebe und Leben to name a few. His ability to weave the voice and the piano together is mesmerizing. The cello is often referred to as the instrument closest to the human voice. It's range spans from basso profundo to coloratura soprano. Evan Drachman's grandfather, Gregor Piatigorsky, had the opportunity as a teenager to work with the famous Russian bass Feodor Chaliapin. Chaliapin said to Piatigorsky, "The cello can teach me how to sing and I can teach you how to talk on your cello". Attuned to the cello's vocal qualities, Schumann composed a number of works for cello with piano and a concerto for cello with orchestra. Although technically demanding, these works never use virtuosity as a means to "show-off". Schumann's introspective lyricism touches something deep within the listener. Warmth, tenderness, playfulness and drama intertwine to tell a story and sing a song.
Evan Drachman and Wan-Chi Su will discuss and perform Schumann's concerto in A minor Op. 129 along with one or two other works for cello and piano.
$15 door fee for guests and subscribers (no fee for members)
Event Contact
Art Seminar Group
4108791947
Event Details
Tuesday, December 14, 2021, 1:30 PM – 3:00 PM
4108791947
Location
Add Event To Your Calendar