BMA Violet Hour: Witchcraft & Women Behaving Badly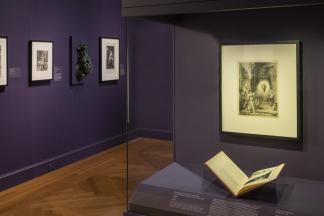 This virtual discussion will explore the historical and contemporary perspectives on witchcraft, archetypes of femininity, and their relationship to contemporary culture. Joining the discussion are Awo Faleyewa, Chief Olumo Ifa Priestess and Elder mother of Ile Ofo Ase Iyaami Oshorunga; Robin Morgan, poet, author, and social justice activist; and Hannah Segrave, historian and lecturer of Italian Studies at The Ohio State University. The talk will be moderated by Dr. Andaleeb Banta, curator of Women Behaving Badly: 400 Years of Power and Protest and BMA Senior Curator and Department Head of Prints Drawings & Photographs.
Watch live on Facebook and YouTube.
Awo Faleyewa Harris
Awo Faleyewa Harris is a Chief Olumo Ifa Priestess, Elder mother of Ile Ofo Ase Iyaami Oshorunga, psychic medium, healing touch practitioner, past life regression therapist, death doula, radio show host, and author. She comes from a long line of oracles and healers and has studied different denominations of spirituality throughout her life. She travels the world providing workshops and various spiritual services that transform lives. Her practice is infused with healing practices passed down through generations along with unconventional healing techniques. www.oldschoolbruja.com
Robin Morgan
Award-winning poet, author, and social justice activist Robin Morgan has published more than 20 books, including the Sisterhood Is Powerful anthology, The Demon Lover: The Roots of Terrorism, The Burning Time, and her newest two: the just-published novel Parallax and her seventh book of poems, Dark Matter, published last year. Recipient of a National Endowment for the Arts Grant (Poetry) and other honors, she hosts the podcast Women's Media Center Live with Robin Morgan and writes for The Robin Morgan Blog. @TheRobinMorgan, www.RobinMorgan.net
Hannah Segrave
Art historian Hannah Segrave lives and works in Columbus, OH. She is a Lecturer of Italian Studies at The Ohio State University and is finishing her PhD dissertation "Conjuring Genius: Salvator Rosa (1615–1673) and the Dark Arts of Witchcraft" at the University of Delaware. Her work has been supported by numerous curatorial positions, most recently at the Metropolitan Museum of Art, and she was the curator of the 2015 exhibition The Novel and the Bizarre: Salvator Rosa's "Scenes of Witchcraft" at the Cleveland Museum of Art.
Event Contact
Sarah Pedroni
14435731700
Event Details
Tuesday, October 26, 2021, 6:00 PM – 7:00 PM
Free
Location
Add Event To Your Calendar