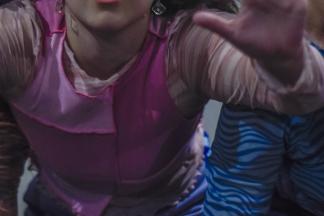 This Saturday, October 30th, Le Mondo presents WOLFTHICKET, a new dance piece exploring a simple yet vast question: why do we dance?
During this exploration, WOLFTHICKET hops and skips across time and place, with inspiration drawn from the traditions, rituals, and fantasies of the 'girls games', such as hand clapping games, recess activities, and make-believe. It then evolves into more adult forms of play, like vaudeville and the joyful catharsis of club culture.
WOLFTHICKET debuted to sold-out crowds in Philadelphia, PA this past August. Led by choreographer, dancer, and former Baltimore City mover and shaker Lily Kind, WOLFTHICKET is a mischievous, musical, and improvised ensemble dance piece we're proud to debut for Baltimore.
WOLFTHICKET will be presented on one night only! You can experience the performance at 7PM or 9PM. $10 Early Bird tickets available online until Sunday, October 17th. Regular admission is $15.
Featuring
Lily Kind
Dylan Smythe
Chelsea Murphy
Lillian Ransijn
Elizabeth Weinstein
Maddie Hopfield
Lea Williams
About the Choreographer
Now based in Philadelphia, Lily Kind directed Effervescent Collective in Baltimore from 2008 - 2014. She gained recognition as Best Choreographer (Baltimore Magazine, 2014) Best Dance Company (Baltimore City Paper, 2010, 2012); Best Dance Company (Baltimore Magazine, 2012); and Top 10 Baltimoreans to Watch Under 30 (Baltimore Sun, 2011). She also trained in historical black vernacular dance styles with Gaurdian Baltimore, predominantly Lindy Hop.

COVID-19 Policy: Performers and staff are vaccinated. Performers are not required to be masked per Baltimore City mandates. Audience members are required to mask and provide proof of vaccination -or- negative COVID test within 72 hours. Be prepared!
Event Contact
Event Details
Saturday, October 30, 2021, 7:00 PM – 10:00 PM
Location
Add Event To Your Calendar