Helena Hicks Emancipation School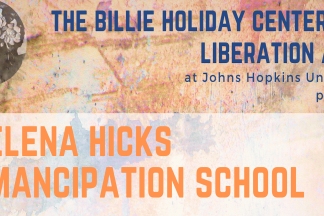 Fall 2021 Helena Hicks Emancipation School
Honoring Baltimore's living legend Helena Hicks, who as a Morgan State University student led the 1955 sit-in movement at Read's Drugstore, our fall lecture series features 40-minute presentations from the Johns Hopkins faculty. These lectures are digests of standing courses, manicured for our event. The mini-courses present the main hypothesis or research question, a pithy literature review explaining key readings from the syllabus, definitions of specialist terms, and a window into the unique archives or data. At the conclusion of the lectures our experts will field questions from the audience. Registered participants of all three mini-courses will receive a certificate of completion from the Johns Hopkins University Billie Holiday Center for Liberation Arts: Helena Hicks Emancipation School.
October 24th Speaker: Professor Lawrence Jackson, Bloomberg Distinguished Professor English & History || Johns Hopkins University
https://english.jhu.edu/directory/lawrence-jackson/
Topic: "Introduction to African American Studies"This lecture provides an opening to foundational ideas in the study of African American life, culture, politics and history in the United States and the Caribbean. African American Studies is a multi-disciplinary field of study that includes history, social sciences, literature and the arts. This academic discipline is often taught under parallel terms emphasizing related geographies and identifying concepts: Black Studies, Afro-American Studies, Africana Studies, Pan-African Studies and African Diaspora Studies. Unlike every other modern academic discipline in the college, African American Studies was founded because of a social and political revolution.
Upcoming Events in this Series (use same registration link) -
November 28th Speaker: Professor Minkah Makalani, "Worlds of Hip-Hop"
December 16th Speaker: Professor Vesla Weaver, "Race & Inequality in the US"
Event Contact
Billie Holiday Center for Liberation Arts
410-516-3247
Event Details
Sunday, October 24, 2021, 11:30 AM – 12:15 PM
Thursday, November 18, 2021, 6:30 PM – 7:15 PM
Thursday, December 16, 2021, 6:30 PM – 7:15 PM
Free
Location
Add Event To Your Calendar