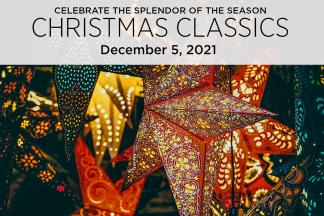 Join us in celebrating the splendor of the holiday season with a concert of much-loved Christmas Classics by Bach, Handel, and more. Bring the whole family to rejoice in the season with "Prepare Thyself," Slumber softly," and "Great Lord, O Powerful King" from Bach's Christmas Oratorio and Bach's Uns ist ein Kind geboren (Unto us a child is born). Additionally, enjoy a selection of treasured Christmas Carols, including "Comfort Ye" from Handel's Messiah, O Holy Night, In the bleak midwinter, Hark! The Herald Angels Sing, and We Wish You a Merry Christmas. Featured soloists include Gloria Park, also; Dr. Min Jin, tenor; and Timothy Mix, baritone. Live/on-demand tickets are also available.
Event Contact
Kristen LePine
410-941-9262
Event Details
Sunday, December 5, 2021, 4:00 PM – 6:00 PM
Sunday, December 5, 2021, 6:00 PM – 8:00 PM
410-941-9262
1
Redemption Instructions
Use Promo Code GBCA25 at checkout for a half-price ticket. Please use this promotion on adult tickets only. This promotion is only good for in-person tickets.
Location
Add Event To Your Calendar