The Next Normal 2.0: Flexibility is the Future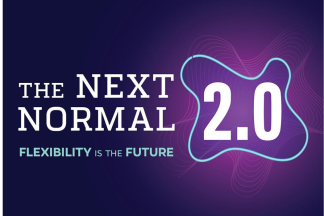 More than 1,300 participants attended Peabody Institute's February symposium, The Next Normal: Arts Innovation and Resilience in a Post-COVID World, and one of the themes that developed was the urgent need to build performing arts institutions that are more flexible and adaptable structurally and programmatically, responsive to communities, and open to evolving ways of making art.
This free, virtual follow-up event will spotlight the real-life stories of innovative artists and administrators presenting their real-world experience. A response panel will facilitate discussion and Q&A around the following thematic questions:
How might we address the barriers that impede institutional adaptability, nimbleness, innovation, and sustainability in the performing arts today?
What kind of structural changes in our business and operating models can we imagine to enable institutions to respond to the needs of their communities in real-time?
How can the institutions that train performing artists today instill the values of flexibility and responsiveness as central to the mindset and skillset of future artists and leaders?
PRESENTERS
Brad Balliett, co-Artistic Director, Decoda, and bassoon faculty, The Peabody Conservatory
Alan Brown, Principal, WolfBrown Consultants
Jake Heggie, composer and pianist
Sarah Johnson, Chief Education Officer and Director, Carnegie Hall's Weill Music Institute
Wendel Patrick, music producer, and assistant professor in Music Engineering & Technology, The Peabody Conservatory
Krishna Thiagarajan, President and CEO, Seattle Symphony
Jawole Willa Jo Zollar, Founding Artistic Director/Chief Visioning Partner, Urban Bush Women
PANELISTS
Marin Alsop, Chief Conductor, ORF Vienna Radio Symphony Orchestra; Chief Conductor and Curator, Ravinia Festival; Director of Graduate Conducting, The Peabody Conservatory
Sean Jones, Professor of Trumpet and Richard and Elizabeth Case Chair of Jazz Studies, The Peabody Conservatory
Howard Herring, President and CEO, New World Symphony
Richard Kessler, Executive Dean, College of Performing Arts and Dean, Mannes School of Music
Alysia Lee, Fine Arts Education Program Supervisor, Maryland State Department of Education, and Founder and Artistic Director, Sister Cities Girlchoir; Professional Studies Faculty, The Peabody Conservatory
Timothy O'Leary, General Director, Washington National Opera
Alan Pierson, Artistic Director, Alarm Will Sound
Paola Prestini, composer, Co-Founder and Artistic Director, National Sawdust
Susan Zhang, Co-Director, The Concert Truck
MODERATOR: Fred Bronstein, Dean, The Peabody Institute
Event Contact
Michele Scherch
667.208.6563
Event Details
Wednesday, November 17, 2021, 10:00 AM – 4:15 PM
Free
Add Event To Your Calendar