Celebrate Day of the Dead at the Walters Art Museum en Español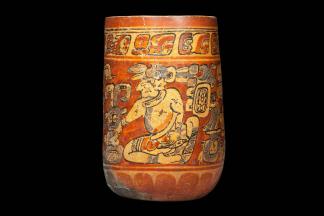 Let's celebrate Día de los Muertos (Day of the Dead) by touring the exhibit at the Walters Art Museum entitled "Translations and Transitions / Traducciones y Transiciones: A Celebration of Mexican and Central American Independence (1821–2021)." Visitaremos la exhibición charlando en español. Free admission. You can also contribute to the Community Altar on view, designed by Baltimore artist Edgar Reyes.
About the Exhibit
"The Walters Art Museum commemorates Mexican and Central American independence from Spain with this exhibition exploring the cultural exchange between Indigenous and European peoples." - from The Walters Art Museum.
About the Community Altar
"Every year, a central component of the Día de los Muertos celebration is the community altar, where [the public can] share ofrenda, offerings, and come together to recognize and joyfully honor the lives of loved ones who are no longer with us. Within the context of the last two years— the impact of COVID-19 and the nation's continued struggle with racial injustice—it is especially important to create a shared space for healing, comfort, and reflection." - from The Walters Art Museum
Parking
On street, or there's a parking lot at 600 Cathedral Street, across from the museum.
Facial Covering
Facial coverings are required inside the museum, though advanced, timed tickets are not.
Event Contact
Baltimore Spanish Language Meetup
Event Details
Thursday, November 4, 2021, 5:30 PM – 6:30 PM
Free
Location
Add Event To Your Calendar