BMA Violet Hour: (Re)Constructing Juan Gris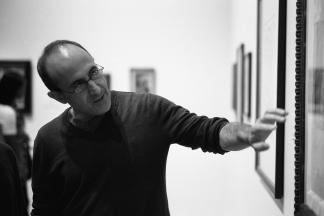 Join us at the Baltimore Museum of Art for an evening inspired by Juan Gris, a pioneering and revolutionary contributor to the Cubist movement.
The program begins with a performance by PostClassical Ensemble, produced in collaboration with the Cultural Office of the Embassy of Spain and conducted by music director Angel Gil-Ordóñez. After the performance, take a deep dive into several of Gris' works through a dynamically illustrated lecture by Dr. Harry Cooper, senior curator and head of modern art at the National Gallery of Art in DC.
RSVP required.
Watch the (Re)Constructing Juan Gris lecture live on YouTube and Facebook.
Arrive at 6 p.m. to enjoy a light reception, cash bar, and access to Color and Illusion: The Still Lifes of Juan Gris.
6:00 p.m. Reception in Antioch Court; explore Color and Illusion: The Still Lifes of Juan Gris.
7:30 p.m. Performance by PostClassical Ensemble
Angel Gil-Ordóñez, conductor| Audrey Andrist, piano | Netanel Draiblate, violin | Benjamin Capps, cello | Nicolette Oppelt, flute | Fatma Daglar, oboe | David Jones, clarinet
Preludes nos. 5 and 6 for piano – Federico Mompou (1893–1987)
Pantomime and Ritual Fire Dance from El Amor Brujo and Concerto for keyboard and five instruments (1926). Mov. 1, Allegro – Manuel de Falla (1876–1946)
7:50 p.m. Exhibition review with Katy Rothkopf, The Anne and Ben Cone Memorial Director of the Ruth R. Marder Center for Matisse Studies and Senior Curator of European Painting and Sculpture
8:00 p.m. (Re)Constructing Juan Gris lecture by Dr. Harry Cooper
Health & Safety
The BMA now requires proof of full COVID-19 vaccination for all guests ages 12 and older to attend in-person events. All doses must be completed at least 14 days before the event. As proof of vaccination, we ask that you please bring your physical vaccination card or a photo or copy of your card at check-in.
About the (Re)Constructing Juan Gris lecture
Among the group of artists who invented Cubism in Paris in the early years of the 20th century, Juan Gris stands out for his faithfulness to that style, which he never left, and for his commitment to the genre of still lifeAnd yet he was no conservative. He explored ideas about representation, color, structure, language, and materials that were as radical as any put forth by Picasso, Braque, or Léger. This lecture will look closely at a small number of paintings in the exhibition to uncover just how Gris reassembled the world around him and put it back together again.
Event Contact
Sarah Pedroni
14435731700
Event Details
Thursday, November 4, 2021, 6:00 PM – 9:30 PM
Free
Location
Add Event To Your Calendar