Exhibit: Chadwick the Crab & All of His Friends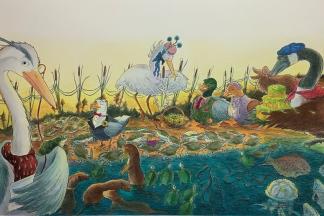 The Liriodendron Mansion is thrilled to be hosting a special exhibition - Chadwick the Crab & All of His Friends – presenting a rare opportunity not only to view the stunning original illustrations from the beloved children's book series, but to meet the illustrator and author, and purchase the works.
The 92 watercolor, and pen and ink illustrations were created by Harford County artist A.R. Cohen. Mr. Cohen began his collaboration with the author Priscilla Cummings in 1986 with the publication of Chadwick The Crab. Eight other books have followed in addition to an activities book and an anthology of four of the Chadwick books. Three of the series focus on Chesapeake Bay wildfowl. There is a bookish blue heron who stars in Oswald and the Timberdoodles, a pair of enterprising egrets featured in Sid and Sal's Famous Channel Marker Diner, and there's Toulouse, The Story of a Canadian Goose.
This exhibition will be enjoyed by children (and adults!) of all ages, at The Liriodendron Mansion, beginning with an opening on Sunday, November 14 from 11:00 to 3:00. The show will be on view every Wednesday, from November 17 through December 29 from 1:00 to 6:00 and Sunday December 12 from 11:00 to 3:00. Admission to the Liriodendron galleries is always free. However, it should be noted that, due to the historic nature of the Mansion, there is limited access to the 2nd floor where the exhibit will be housed.
Along with the illustrations, books will be on sale and the illustrator A.R. Cohen and the author Priscilla Cummings will be there to sign them.
The Bel Air Library will hold Storytime at the Liriodendron on Wednesday November 17 and Wednesday December 8 at 10:30 am, where Librarians will share stories, songs, and rhymes all about the Chesapeake Bay and the animals that live there.
Don't miss this charming and fun exhibition and the chance to purchase one of these engaging works of art! All sales benefit The Liriodendron Foundation.
Visit https://bit.ly/ChadwickExhibit for additional information.
The Liriodendron Mansion, located at 502 W. Gordon St. in Bel Air, is listed on the National Register of Historic Places and serves as an architectural treasure, cultural center, and events venue. Owned by Harford County, it is operated by the non-profit Liriodendron Foundation. This stunning example of Palladian architecture was built in 1898 as the summer home for Dr. Howard A. Kelly, a founding physician of Johns Hopkins Hospital and Medical School, and his wife and 9 children.
Event Contact
Brenna Kupferman
4108794424
Event Details
Sunday, November 14, 2021, 11:00 AM – 3:00 PM
Wednesday, November 17, 2021, 1:00 PM – 6:00 PM
Wednesday, November 24, 2021, 1:00 PM – 1:00 PM
Wednesday, December 1, 2021, 1:00 PM – 6:00 PM
Wednesday, December 8, 2021, 1:00 PM – 6:00 PM
Sunday, December 12, 2021, 11:00 AM – 3:00 PM
Wednesday, December 15, 2021, 1:00 PM – 6:00 PM
Wednesday, December 22, 2021, 1:00 PM – 6:00 PM
Wednesday, December 29, 2021, 1:00 PM – 6:00 PM
Free
Location
Add Event To Your Calendar