2nd Annual Baltimore Old Time Music Festival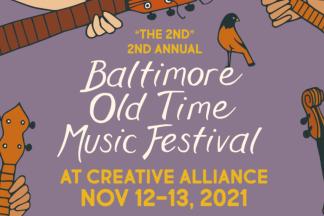 This event will be able to stream virtually as well as attend in-person.
Creative Alliance convenes some of the brightest old-time musicians, singers, and dancers in the country to celebrate where this music exists today. Join host artists Ken & Brad Kolodner for the Baltimore Old Time Music Festival!
On Friday night, Ken and Brad welcome a dizzying lineup of musicians including Brad Leftwich & The Humdingers, Bill and The Belles, and Jake Blount with his band.
Saturday is packed with hands-on workshops from many of our headline performers, intimate performances in the Marquee Lounge, afternoon concerts in the theater, educational conversations, and wild square dance to close out the festival on Saturday night. See you there?
-----
WEEKEND PASS (includes Friday night concert, Saturday concerts, workshops, & Saturday Evening Dance)
$75, $70 MEMBERS (+$6 at the door) SOLD OUT
FESTIVAL SUPPORTER (includes one full weekend pass, reserved seating in the theater on Friday and all day Saturday, festival poster, thank you in festival program & more special surprises)
$150
FRIDAY NIGHT KICKOFF CONCERT
$29, $25 MEMBERS (+$3 at the door) SOLD OUT
SATURDAY FULL DAY PASS (includes all Saturday concerts, workshops, & Saturday evening dance)
$55, $50 MEMBERS (+$6 at the door) | Ages 16 and Under $28, $23 MEMBERS (+$4 at the door)
SATURDAY NIGHT DANCE AND EVENING CONCERTS (7:00pm -11pm)
$12, $10 mbrs (+$3 at the door)
Note About Workshops: Weekend or Saturday Pass ticket purchasers will receive an email from [email protected] with a ticket confirmation and instructions for workshop registration. This email will arrive from the address [email protected] shortly after completing your purchase. For questions about this process, please email [email protected] or [email protected].
Event Contact
Creative Alliance
Event Details
Friday, November 12, 2021, 12:00 AM – Saturday, November 13, 2021, 12:00 AM
Location
Add Event To Your Calendar