Monthly Elder Arts Jam with Dance & Bmore (Virtual)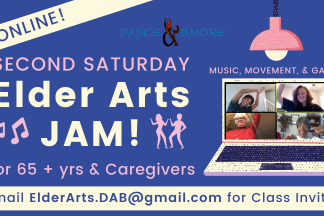 You're invited every Second Saturday at 10AM to Dance & Bmore's Online Elder Arts Jam! It is a creative space for senior citizens to dance, talk, share recipes, stories, laugh, and sing.
Classes include:
Music, Movement, and Games
"Did You Know" Health Tips segment featuring research and the latest health news for the aging.
Open mic segment for you to share songs, poetry, and memories.
Dates:
Sat, Nov 13th, 2021
Sat, Dec 11th, 2021
Sat, Jan 8th, 2022
Sat, Feb 12th, 2022
Sat, March 12th, 2022
Sat, April 9th, 2022
Sat, May 14th, 2022
Sat, June 11th, 2022
Time: 10:00 - 11:00AM
Platform: Zoom
Event Contact
Dance and Bmore
410.871.8322
Event Details
Repeats monthly on January, February, March, April, May, June, December on the second Saturday -- until Saturday June 11, 2022.
410.871.8322
Free
Location
Add Event To Your Calendar