The 1930s: Baltimore's Decade of Uncertainty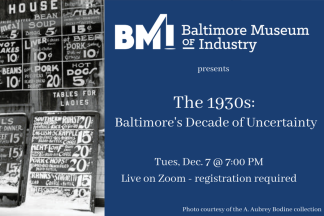 Join us on December 7th at 7:00PM for an in-depth look at Baltimore in the 1930s with Senior Museum Educator Jack Burkert. This program will be hosted over Zoom. Access provided after registration.
In the decade of the Great Depression, the city was entering uncharted territory: an unparalleled economic downturn, collapsing banks, and a growing international crisis that would ultimately bring the country into another world war. Politicians were elected to be agents of change, and the "New Deal" put Baltimore slowly on the road to economic recovery. It was a decade of growing Civil Rights activism, of entrepreneurs and entertainers, and, most of all, people enduring hardship while looking forward to better times.
FREE for all audiences. Donations encouraged.
Event Contact
Event Details
Tuesday, December 7, 2021, 7:00 PM – 8:30 PM
Free
Add Event To Your Calendar