Matisse: The Sinuous Line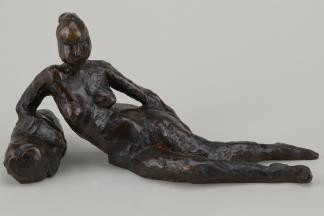 The first exhibition on view in the new Ruth R. Marder Center for Matisse Studies showcases Henri Matisse's graceful use of line in bronze sculpture and works on paper, drawn from the BMA's collection. Although best known as a painter, Matisse was engaged as a draftsman, sculptor, and printmaker, relying heavily on line to create contours and shapes.
This exhibition was inspired by the BMA's The Serpentine bronze of 1909, which is a masterpiece of line and movement. It will also feature several of Matisse's explorations of the reclining figure in bronze, which show the artist moving from a classical style toward a more streamlined treatment of the body. The same theme can be seen in several of the works on paper included. Two pen and ink drawings and a linocut will be featured alongside innovative etchings and lithographs, all produced with the artist's graceful curving line, a seemingly effortless mark, yet the result of much work. Matisse's ability to convey his models' personality with just a few lines in some instances, or with many more in his more fully fleshed out compositions, is part of his great contribution as a draftsman and printmaker.
Event Contact
Sarah Pedroni
14435731700
Event Details
Repeats weekly Sunday and Wednesday and Thursday and Friday and Saturday -- until Sunday April 24, 2022 -- except Saturday December 25, 2021, Saturday January 1, 2022.
Free
Location
Add Event To Your Calendar