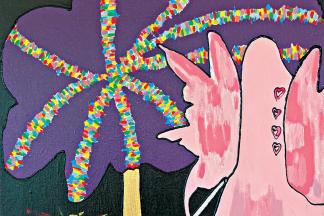 A Fairy Queen
Music by Henry Purcell
Conceived and Conducted by Timothy Nelson
IN Series
December 3
Everything is magical in this A Midsummer Night's Dream as IN Series celebrates summer in midst of winter. This live holiday event blends Shakespeare's whimsical words with the unforgettable music of Henry Purcell in the style of a classic radio play with live sound effects, featuring local radio personalities as masters of ceremonies. Acclaimed soprano Claron McFadden joins a chamber ensemble as the clarion voice of a trumpet, adorning this celebration of "the winter of our discontent made glorious summer."
Conceived and conducted by Timothy Nelson
Sarah Couden, Peter Quince/Fairy
Marc Callahan, Bottom/Demetrius
Enrico Lagasca, Puck/Robin Starveling
Sylvia Leith, Snug/Helena
Lucy Page, Titania
Aaron Sheehan, Snout/Lysander
Benjamin Williamson, Oberon
Melissa Wimbish, Flute/Hermia
John TK Scherch, Narrator
COVID Policy:
All patrons must show proof of vaccination for COVID or a negative COVID test taken within 72 hours of the performance.
All guests must wear masks while inside Theatre Project.
Seating will be limited.
If you have any COVID-associated symptoms the day of the show, please do not attend.
Showtime:
December 3 @ 7:30pm
Tickets:
General Admission: $30
Seniors & Student: $20
Event Contact
410-752-8558
Event Details
Friday, December 3, 2021, 7:30 PM – 10:00 PM
410-752-8558
Location
Add Event To Your Calendar