Flushing (Make Room for Someone Else)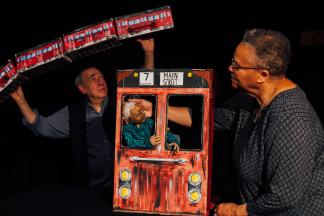 Flushing
(Make Room for Someone Else)
Conceived and Written by Linda Parris-Bailey and Eric Bass
Sandglass Theater
December 17 & 18
It begins at the Brink, where two theater directors are passing the leadership of their ensembles to the next generation. This moment sparks a reflection on what it means to retire and what it might mean to inherit. For those stepping down, what do we leave and who do we become? And for those stepping up, how do we take what is given and make it our own?
A story told with puppets, with songs, and with a deep personal investigation of how Time brings us all to moments of truth and inevitable change.
A work-in-process.
Conceived and written by Linda Parris-Bailey and Eric Bass
Performed by Linda Parris-Bailey, Eric Bass, and Kirk Murphy
Directed by Kathie deNobriga
Puppets by Ines Zeller Bass
Original songs by Linda Parris-Bailey and Eric Bass
Additional recorded music by Julian Gerstin
Technical support by Jerry Stockman
Choreographic support by Shoshana Bass
Produced by Sandglass Theater
This project is made possible, in part, by contributions from The Carpetbag Theatre, Parris-Bailey Arts and grants from the National Endowment for the Arts, Alternate ROOTS (2020 Artistic Assistance Project Development), the Network of Ensemble Theaters' Travel & Exchange Network (NET/TEN), both supported by lead funding from The Andrew W. Mellon Foundation and by the National Endowment for the Arts.
https://sandglasstheater.org/shows/current/flushing
COVID Policy:
All patrons must show proof of vaccination for COVID or a negative COVID test taken within 72 hours of the performance.
All guests must wear masks while inside Theatre Project.
Seating will be limited.
If you have any COVID-associated symptoms the day of the show, please do not attend.
Showtimes:
December 17 @ 8pm
December 18 @ 2pm
December 18 @ 8pm
Tickets:
General Admission: $15
Event Contact
410-752-8558
Event Details
Friday, December 17, 2021, 8:00 PM – 10:00 PM
Saturday, December 18, 2021, 2:00 PM – 4:00 PM
Saturday, December 18, 2021, 8:00 PM – 10:00 PM
410-752-8558
Location
Add Event To Your Calendar