Winter Joys: Handel & Bach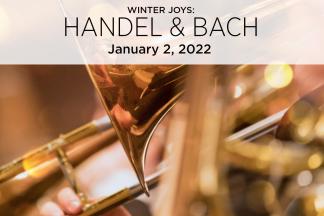 Keep the holiday magic alive with this uplifting program of Baroque comforts selected to warm your heart, including Handel's Chandos Anthem: Oh Be Joyful in the Lord, from Psalm 100 and selections from Bach's Cantata 32: Liebster Jesu, mein Verlangen (Dearest Jesus, my desire). The concert concludes with arias from Bach's most celebrated and eternal song, Cantata 140: Wachet Auf (Sleepers Awake! A Voice is Calling). In-Person and Live-Streaming/On-Demand tickets are available.
Event Contact
Kristen LePine
14109419262
Event Details
Sunday, January 2, 2022, 4:00 PM – 6:00 PM
14109419262
1
Offer good
12/26/21

to

01/02/22
Redemption Instructions
Use Promo Code GBCA25 at checkout for a half-price ticket. Please use this promotion on adult tickets only. This promotion is only good for in-person tickets.
Location
Add Event To Your Calendar