MLK Artistic Celebration by Kondwani Fidel: Until The End of Rhymes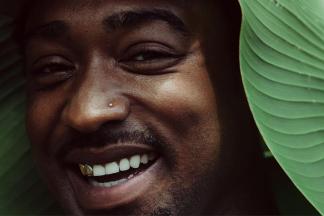 Location: This event will take place on site at the museum and will also be live streamed.
Join poet Kondwani Fidel in celebrating and illuminating joy, struggle, and self-determination, through performance. Fidel will share new work from his forthcoming [untitled] poetry EP, accompanied by musician John Tyler, who is the founder of Love Groove Music Festival. This program will also feature performances by special guests Akilah Divine, APoetNamedNate, Kooz, Zyaa, HLVII KIRA, Black Assets, and Eddie Vanz. In honor of the life and legacy of Martin Luther King, Jr., this program celebrates the impact of Black voices on our society.
About the Performers
APoetNamedNate, a multifaceted Black artist from Baltimore, has a diverse artistic background. He is a poet, author, music producer, songwriter, creative director, and curator. He is known for his poetry productions, bringing both nationally ranked and amateur poets together, with a goal to create a space where poetry can be experienced authentically. His productions include Midsummer Night Poetry, Much Ado About Poetry, Earth, Wind and Poetry, Anatomy Of Poetry, featuring some of the top poets in the world. He has two short films as the creative director and music producer for The Unveiling Of God and A Black Girl's Country and his first book Anticipational Love Poems is set to come out in 2021.
Black Assets was born Ashley Yates in Itta Bena, Mississippi, and later moved to Baltimore. Her Southern roots combined with her Baltimore feel has molded her into a powerhouse Soul, Funk, Indie Singer. She is a shining example of how eliminating self-doubt can transform one into positivity, align them with their passion, and cultivate a space for their pure talent. Her most recent piece, "Being Black" was an eloquent display of her talents—she wrote the lyrics, produced the song and designed the cover art. Black Assets is surely a dynamic artist on the rise.
Akilah Divine is multi-disciplinary artist; singer, spoken word artist, rapper, and actress who was born and raised in Baltimore. She aims to be an experience that resonates with people and to give them something they can connect with and feel. She has been featured in The Afro, Hot 97, Grid Magazine, Baltimore Times, A&R Factory, WeAreSensei, Alchemical Records, Ital Massive, Str8OutDaDen, Aipate, and other publications. Her hit single "TRIBE" was accepted as Official Selection in 14 film festivals.
Kondwani Fidel has used the power of storytelling to confront education reform and civil rights all over the world. He was recently featured on The Tamron Hall Show where he discussed his work and life story. Baltimore Magazine honored Fidel with the "Best of Baltimore" in 2021 for his poetic skills. Fidel is the author of The Antiracist, Hummingbirds in the Trenches, and Raw Wounds. In 2020, Fidel released his debut poetry EP The Mud Was Made For Us, which is multilayered aesthetics of Fidel's steady flow, tactical wordplay, and smooth cadences crooned over laid-back jazz beats. He received his BA in English from Virginia State University, his MFA in Creative Writing and Publishing Arts from the University of Baltimore, and is currently a professor at Coppin State University. NPR called Fidel "one of the nation's smartest young Black voices." He is from and based in Baltimore City.
HLVII KIRA is a producer/singer/songwriter/lyricist based out of Baltimore. Japanese inspired blending together with personal experiences to create the sound we know and love.
Michelle Kusi, who goes by the name TribeCalledKush or The KooZ, is a spoken word artist, curator, writer, and creative director from the Bronx. Michelle attended Morgan State University for undergrad and her masters in criminal justice Summa Cum Laude. Michelle began writing poetry at a young age, honing her craft during undergrad. She is now known across the globe as an inspirational poet. Her pieces are meant to provoke thought and reveal her truths in topics including love, black liberation, and religion among other topics. Michelle is a storyteller. Her pieces often give you imagery with a plot line and climax through metaphors. Michelle believes that one's purpose should always be to aspire to inspire before you expire. Michelle wasn't always on the positive side of the inspiration spectrum, often getting into trouble in her teenage and early adult years until she took a class that provoked her deep thinking and gave her the escape of expressive poetry. Michelle created a Movement alongside her Poetry Partner Kondwani Called Art: The dope and The dealer, where they give a platform to artist and poets around the country. Michelle also curates a yearly event called Creative Chaos, an artistic collaborative movement. Michelle has shared the stages with Def Jam Poet Black Ice and Grammy nominated gospel singer Kierra Sheard and many others. Michelle became a mom at 28 and has been living and loving mommyhood.
Dayana Zyanya Lee also known as "Zyaa" is an author, activist, model, singer and playwright. Arisen from Norfolk, Virginia, she grew up knowing artistry was the one thing she could always feel safe in. A graduate from Virginia State University, with a degree in sociology, Dayana uses art as a therapeutic outlet for her to combat the quarrels of mental health. She has written and produced three play productions: Give Me My Sun Back, Under Enemies Arms, and most current Langston Blues. She aspires to be a famous playwright, artist, and creative director.
John Tyler is a 21-year-old, Baltimore-based artist, multi-instrumentalist, producer, and Founder of Love Groove Music Festival. Since his early teens, John has consistently found ways to weave music into his life including on-stage performances, producing music for local artists, and collaborating on music projects. To date, he has performed at the Firefly Festival, Baltimore's Artscape, Sound Stage, and The Fillmore in Silver Spring. Additionally, he has film scored for Under Armour, Bloomberg Philantrophies, Visit Baltimore, and Maryland Public Television. One of his main ventures is Love Groove Music Festival, a five-year running Event offering local emerging artists opportunities to showcase their work on a major stage. This year, John partnered with Baltimore Center Stage and Hot Sauce Artists Collective to provide an ultimate 2-day event of performances and music workshops. Stay tuned for the next Love Groove 6 in Aug 2022. Soon, John will release his third LP "Free Spirit" and launch a documentary on the project. John is passionate about music and collaborating with artists. He looks forward to meeting emerging artists and seeing friends who have helped him along his journey
Eddie Vanz is an up and coming rapper from the DMV. He has collaborated with several of Hip Hop's popular figures today, such as IDK and Chaz French. Vanz has performed at some legendary music spaces including Broccoli City Festival, SXSW, SOB's, and has also shared the stage with Freddie Gibbs on his "SOD Tour." In January 2019, Vanz released his debut rap EP titled "I Choose Me," available on all streaming platforms.
Image by Schaun Champion
Event Contact
Event Details
Thursday, January 20, 2022, 6:00 PM – 7:00 PM
Free
Location
Add Event To Your Calendar