WEBINAR: Elaine Ruffolo, "Padua: Saints, Sinners and Giotto"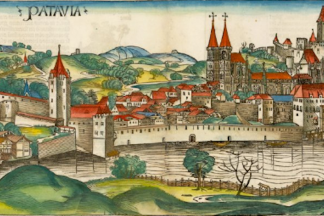 ART SEMINAR GROUP ONLINE PROGRAM THROUGH ZOOM
Padua: Saints, Sinners and Giotto
Elaine Ruffolo, Renaissance art historian

Padua can rightly claim its place among Italy's most interesting and historic cities. Nicknamed La Dotta (the Learned), Padua is the intellectual center of the Veneto, once home to the great Roman historian Livy. Since 1221 it has been home to one of Europe's most celebrated universities, which counts Petrarch, Dante and Galileo among its alumni. Artists including Giotto, Donatello and Mantegna all left their artistic marks on this lively town. Padua attracts thousands of pilgrims every year as it is the resting place of Saint Anthony of Padua, and his exotic, seven domed mosque of a basilica is the city's most striking landmark. But Padua's prize is the Arena Chapel, also known as the Scrovegni Chapel, painted by the father of Renaissance art, Giotto. Justifiably, it is often considered the most important and influential decorative monument in the history of the Italian Renaissance and it changed art forever. Join us for an in-depth investigation of the history and art of Padua.
$15 door fee for guests and subscribers (no fee for members)
Event Contact
Art Seminar Group
4108791947
Event Details
Tuesday, January 18, 2022, 1:30 PM – 3:00 PM
4108791947
Location
Add Event To Your Calendar