WEBINAR: Chris Boicos, "Robert Mallet-Stevens, the Most Elegant French Modernist"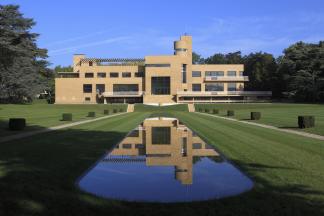 ART SEMINAR GROUP ONLINE PROGRAM THROUGH ZOOM ****special lecture 1:30-3pm
Robert Mallet-Stevens, the Most Elegant French Modernist
Chris Boicos, professor of art history for the University of Southern California Paris program and founder (2007) and main lecturer for Paris Art Studies

The architect, urbanist, professor and designer of furniture, costume, movie sets, commercial and residential interiors, Robert Mallet-Stevens (1886-1945) is in some ways one of the least known cultural figures of the French "entre-deux-guerres." As both theoretician and practitioner he revolutionized the design of his era as much as his more famous rival, Le Corbusier. Less austere and less doctrinaire than Le Corbusier but also less sleek and "posh" than his Art Deco colleagues he created an architectural look that strikes a perfect balance between the radical ideals of the modern school and the expensive luxuries of Art Deco. In our lecture we will examine Mallet-Stevens' collaboration with some of the great creators and patrons of the age: the couturier Paul Poiret, the Surrealist patrons Charles and Marie-Laure Noailles, the cinema director Marcel Herbier, the designer Eileen Gray and more. We will also focus most particularly on his two architectural masterpieces: the villa Noailles in Hyères (1923-25) and the villa Cavrois in Lille (1929-1932).
$15 door fee for guests and subscribers (no fee for members)
Event Contact
Art Seminar Group
4108791947
Event Details
Tuesday, January 25, 2022, 1:30 PM – 3:30 PM
4108791947
Location
Add Event To Your Calendar