Langston Hughes Birthday Celebration and Reading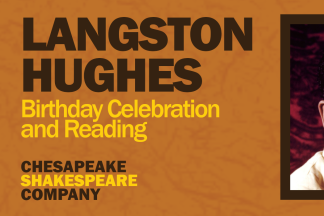 Date: February 1, 2022
Time: 6pm – 7pm
Location: The Studio at Chesapeake Shakespeare Company, 4th floor. 206 E Redwood St, Baltimore, MD 21202
Masks and proof of vaccination or a negative COVID-19 test taken within the past 72 hours are required for entrance.
Come celebrate the 121st Birthday of American Poet, civil rights activist, and leader of the Harlem Renaissance, Langston Hughes.
Celebrate Hughes' contributions to Modern Black Performance and his influence on "A Raisin In The Sun" as well as feature a reading of "Shakespeare in Harlem;" a 1959 one-act play derived from his poetry.
The reading will feature actors from CSC's Black Classical Acting Ensemble, our Resident Acting Company, as well as other actors from our community: Mecca Nadirah Verdell, Zipporah Brown, Isaiah Mason Harvey, Elana Michelle, Tyrel Brown, Victoria Graham, Majenta Thomas, Chania Hudson, Lauren Davis, and Shaquan Pearson.
Just as William Shakespeare explores the stages of man from the infant to the old pantaloon, Hughes' work dramatizes the black lives that race through the streets of Harlem; and surely, Lorraine Hansberry became acquainted with these types as well in creating the Younger family.
Please join us as we kick off our opening weekend with singing, cake, and remembering Harlem's very own Shakespeare: Langston Hughes.
Note: This event will also be live streamed through our social media channels for anyone who would like to tune in virtually.
Event Contact
Event Details
Tuesday, February 1, 2022, 6:00 PM – 7:00 PM
Free
Location
Add Event To Your Calendar