A Raisin in the Sun "Meet the Director" Pre-Show Event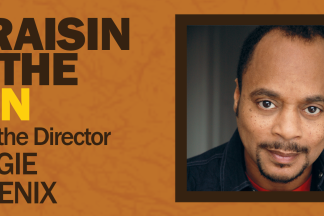 Date: February 5, 2022
Time: 7pm
Location: The Middendorf lounge located on the first mezzanine of the Chesapeake Shakespeare Company Theatre, 7 S Calvert St, Baltimore, MD 21202
Masks and proof of vaccination or a negative COVID-19 test taken within the past 72 hours are required for entrance.
Please join us as CSC Director of Education, Ron Heneghan, sits down with director Reggie Phoenix for a discussion on his relationship and past experiences with "A Raisin In The Sun," his overall vision as the director, and his discoveries working on this production, and creating the world of 1950's Southside Chicago for a 2022 Baltimore audience.
Note: This event will also be live streamed through our social media channels for anyone who would like to tune in virtually.
Event Contact
Event Details
Saturday, February 5, 2022, 7:00 PM – 7:45 PM
Free
Location
Add Event To Your Calendar