Black Women and the Black Family: A Pre-Show Discussion for "A Raisin in the Sun"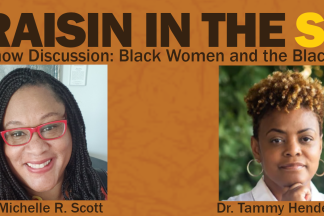 Date: February 20, 2022,
Time: 1pm
Location: The Middendorf lounge located on the first mezzanine of the Chesapeake Shakespeare Company Theatre, 7 S Calvert St, Baltimore, MD 21202
Masks and proof of vaccination or a negative COVID-19 test taken within the past 72 hours are required for entrance.
Join UMBC faculty Dr. Michelle R. Scott and Dr. Tammy Henderson as they lead a discussion surrounding the roles of gender and the Black family seen in the 50's as well as in the play, "A Raisin In The Sun."
Dr. Scott is a member of UMBC's History department, as well as a published author. Currently working on a study of the origins and economic ramifications of 1920s and 30s Black vaudeville theater circuit.
Dr. Henderson is lecturer of Africana Studies with a specialty in African American women's history and public policy at UMBC. Teaching and research interests include maternity, race, Black deminist thought, Black families, and Black popular culture.
Note: This event will also be live streamed through our social media channels for anyone who would like to tune in virtually.
Event Contact
Event Details
Sunday, February 20, 2022, 1:00 PM – 1:45 PM
Free
Location
Add Event To Your Calendar