Spectrum: Lecture by Lisa Moren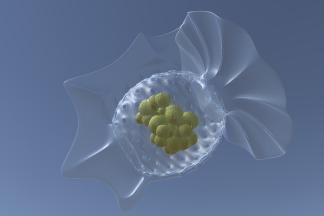 In conjunction with Spectrum: 2022 Visual Arts Exhibition (February 3 – March 12), UMBC's Center for Art, Design and Visual Culture (CADVC) presents a lecture by artist Lisa Moren, whose works will be on display.
Lisa Moren, a professor of visual arts, will discuss two projects. Under the Bay is an augmented reality project with marine biologist Tsvetan Bachvaroff and software engineer Marc Olano. The AR uses live data streaming in from the Chesapeake Bay, where the water itself influences meandering stories, animation, and original music by Dan Deacon. The AR project is supplemented by a podcast, objects, photography, a wall of wonders, video, and animation. The second project is also a collaboration with Tsvetan Bachvaroff featuring a bioluminescent tank, entitled What Is the Shape of Water?, where millions of microbes (dinoflagellates) describe the shape of water by lighting up when visitors speak to the ancient critters.
UMBC is committed to creating an accessible and inclusive environment for everyone. Live-captioning will be provided during this event. To request additional accessibility accommodations, please contact the CADVC at [email protected].
Image: Lisa Moren, still from Under the Bay, courtesy of the artist.
Event Contact
Event Details
Thursday, February 17, 2022, 4:00 PM – 5:30 PM
Free
Location
Add Event To Your Calendar