Kelly Wisecup: Indigenous Reading in the Archives of Empire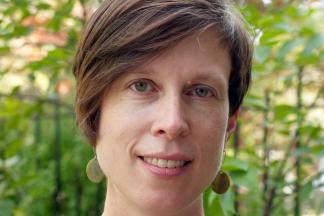 UMBC's Humanities Forum presents Kelly Wisecup, associate professor of English at Northwestern University, who will speak on Indigenous Reading in the Archives of Empire: Birchbark Object Lessons at the 1893 World's Fair.
At the 1893 Chicago World's Fair, the Potawatomi writer Simon Pokagon circulated a small birchbark pamphlet that recast colonial narratives of empire and discovery, connecting them to Indigenous homelands and histories of dispossession. This talk offers new insights into what Pokagon called the pamphlet's "object lessons," its implications for nineteenth-century Indigenous literatures, and its connections to contemporary conversations about public space, monuments, and memory.
Kelly Wisecup is an associate professor in the Department of English at Northwestern University. Additionally, she is affiliated with the Center for Native American and Indigenous Research, American Studies, and Science in Human Culture. A scholar of Native American literatures and textual cultures, early American literatures, and science and literature in the Atlantic world, Wisecup is the author of Medical Encounters: Knowledge and Identity in Early American Literatures (University of Massachusetts Press, 2013), and co-editor, with Lisa Brooks, of Plymouth Colony: Narratives of English Settlement and Native Resistance from the Mayflower to King Philip's War (Library of America, 2021).
Her most recent book, Assembled for Use: Indigenous Compilation and the Archives of Early Native American Literature (Yale University Press, 2021), offers a sweeping account of early Native American literatures by examining Indigenous compilations: intentionally assembled texts that Native people made by juxtaposing and recontextualizing textual excerpts into new relations and meanings.
This event will be streamed online via Webex.
UMBC is committed to creating an accessible and inclusive environment for all faculty, staff, students, and visitors. Live-captioning will be provided at all online events. To request additional accessibility accommodations, please contact us at [email protected].
Sponsored by the Dresher Center for the Humanities and the Department of History.
Photo courtesy of the speaker.
Event Contact
Event Details
Thursday, February 24, 2022, 4:00 PM – 5:30 PM
Free
Location
Add Event To Your Calendar