Spanish classical guitarist Pepe Romero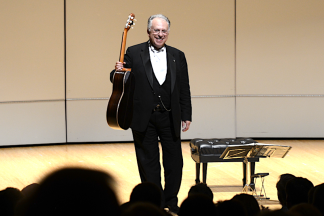 Pepe Romero has communicated the richness and beauty of the classical guitar to millions of people throughout the world. He has, indeed, become an ambassador of classical music, and, correspondingly, of the classical guitar.
Pepe Romero has always felt, along with his father and brothers, that the sharing of one's art is a personal responsibility. Mr. Romero has served as Professor of Guitar at the University of Southern California, University of California at San Diego, Southern Methodist University, and the University of San Diego. His newly revised guitar method "La Guitarra" was published and released by Tuscany Publications in 2012. Currently he is finalizing a teaching video that discloses the principles of the Pepe Romero guitar technique.
Pepe Romero holds honorary doctorates in music from the San Francisco Conservatory of Music and the University of Victoria, British Columbia. In June 1996, he received the "Premio Andalucía de la Música," the highest recognition given by his native land for his contribution to the arts. In addition, His Majesty, King Juan Carlos I of Spain, has knighted Pepe and his brothers into the Order of "Isabel la Católica." In June 2018 he received the Medalla de Honor from the Real Academia de Bellas Artes de Granada for his lifelong achievement in performance and pedagogy.
Pepe Romero's website: https://peperomero.com
Event Contact
Asgerdur Sigurdardottir
4432962247
Event Details
Saturday, June 11, 2022, 8:00 PM – 10:00 PM
4432962247
Location
Add Event To Your Calendar