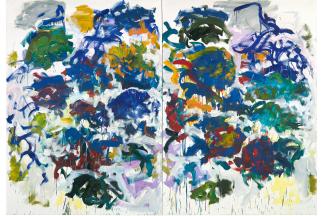 The long-awaited Joan Mitchell retrospective is almost here! Co-organized by the BMA and San Francisco Museum of Modern Art, this comprehensive exhibition follows the career of the internationally renowned artist who attained critical acclaim and success in the male-dominated art circles of 1950s New York, then spent nearly four decades in France creating breathtaking abstract paintings that evoke landscapes, memories, poetry, and music.
The exhibition features 70 works—from rarely seen early paintings and drawings to multi-panel masterpieces that immerse viewers with their symphonic color. Highlights such as To the Harbormaster (1956) and South (1989) evoke urban environments and the lush French countryside, while No Rain (1976) and Sunflowers (1990-91) engage with the legacy of Vincent Van Gogh. Two enormous multi-panel paintings, Ode to Joy (A Poem by Frank O'Hara) (1970-71) and La Vie en Rose (1979), demonstrate Mitchell's passion for poetry and music. The exhibition reiterates these artistic connections with an immersive soundscape that includes quotes taken from Mitchell's writing and interviews and literature and music significant to the artist. The experience is optimized for headphones in the gallery and accessible for visitors through an app on their mobile device or a player borrowed from the museum.
Joan Mitchell is an extraordinary opportunity to see the work of one of the most significant artists of the post-war era as numerous loans from public and private collections in the U.S. and Europe include works that have not been shown publicly in decades and never in a single exhibition. Photographs of views and other paintings that inspired Mitchell will be shown alongside her paintings, capturing the way she connected to the natural world and to everyday life. The BMA's presentation also includes many archival photographs, letters, poems, and other materials from the Joan Mitchell Foundation, providing additional context about the development of the artist's work and influences.
Event Contact
Sarah Pedroni
443-573-1701
Event Details
Repeats weekly Sunday and Wednesday and Thursday and Friday and Saturday -- until Sunday August 14, 2022 -- except Sunday July 17, 2022.
Location
Add Event To Your Calendar