Virginia Poe Bicentennial Discussion Series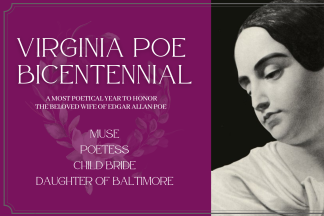 Edgar Allan Poe famously proclaimed the death of a beautiful woman "the most poetical subject in the world." The prolonged suffering of his beautiful, dying wife, Virginia Poe, almost certainly inspired this belief. Virginia Poe remains one of the most enigmatic and controversial figures in the famed author's history. Join us for a series of live readings, themed discussion, and Q&A about the famed muse, poetess, child bride and daughter of Baltimore.
Each session will include history, presentations, reading and discussion around a selected theme. The live session has limited seats to encourage interactive Q&A with the presenters.
Event Contact
Poe House Manager
4433279789
Event Details
Repeats monthly on March, April, June, July on the third Tuesday 5 times. Also includes Tuesday May 10, 2022.
4433279789
Location
Add Event To Your Calendar