Resident Visual Artists Exhibit 2022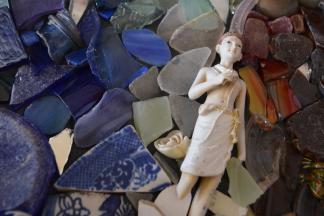 In its 38th year at the Howard County Arts Council, Resident Visual Artists Exhibit 2022 features recent work created by artists with studios at the Center for the Arts: James Adkins, Sara Engel, Michelle Faulkner-Forson, Myungsook Ryu Kim, Diana Marta, Joyce J. Ritter, Lisa Scarbath, Jereme Scott, Asma Ahmed Shikoh, Andrei Trach, Jamie Travers, Mary Jo Tydlacka, and David Zuccarini. These artists work in a variety of media including oil and watercolor painting, drawing, fiber art, mosaic, installation art, and stained glass.
Resident Visual Artists Exhibit 2022 will be on display from April 16 – May 28, with a free public reception on Friday, April 22 from 6-8 pm. To accommodate patrons unable to visit the gallery in person, the exhibit will also be available to view online at hocoarts.org/galleries.

Gallery hours are Monday through Friday 10am- 8pm, Saturday 10am-4pm, and Sunday 12- 4pm. Please note: Due to the COVID-19 pandemic, gallery hours are subject to change. Before visiting, please confirm gallery hours and review COVID-19 visitor guidelines at hocoarts.org.
Event Contact
Annie Braunschweig
410-313-2787
Event Details
Repeats weekly Saturday -- until Saturday May 28, 2022.
Repeats weekly Sunday -- until Sunday May 22, 2022.
Repeats weekly Monday and Tuesday and Wednesday and Thursday and Friday -- until Friday May 27, 2022.
Free
Location
Add Event To Your Calendar