Tango Meets Classical Bandoneon Duo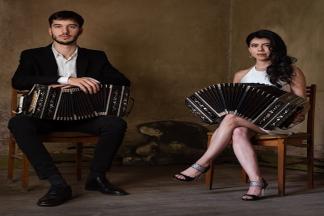 Heyni Solera and Rodrigo Avalos
Heyni Solera
Rodrigo Avalos
BACH AND THE BANDONEON:
The bandoneon has long been considered the iconic instrument of tango, but its origins began very far from Argentina. Created in Germany to replace the organ in remote churches, the bandoneon was intended to be played in a variety of genres. Bandoneonists, Heyni Solera and Rodrigo Avalos, explore the other possibilities of this beautiful instrument through their selected arrangements of Bach's well-tempered clavier, and their own compositions that pay homage to this master of baroque music. They will also perform tango duos that highlight the other capabilities of this versatile instrument, making this an evening you won't forget!
PROGRAM
WELL-TEMPERED CLAVIER:
MIRRORING BOOKS
Prelude and Fugue XII Book 1
Prelude and Fugue XII Book 2
Prelude and Fugue XVI Book 1
Prelude and Fugue XVI Book 2
HOMAGE TO BACH
Heyni's Prelude and Fugue I Book 1
Rodrigo's Prelude and Fugue I Book 2
IT TAKES TWO TO TANGO
Cautivante
L. Federico, arr. R. Boero
Nada
Jose Dames, arr. H. Solera
Julian
E. Donato, arr. P. Jaurena
Nieblas
de Riachuelo J.C. Cobian, arr. P. Jaurena
Showtime: 5 pm ET/4 pm CT/3 pm MT/2 pm PT/9 pm GMT
Limited in-person seats: $25 / $10 full-time students with valid ID
Proof of COVID-19 vaccination required at door
In -person attendees receive a link to the recording to view for one week.
Streaming Cost is $15
The link will be revealed to live stream participants 15 minutes before the show
and will remain active through May 28
Donations welcome
Event Contact
Event Details
Sunday, May 22, 2022, 5:00 PM – 6:00 PM
Location
Add Event To Your Calendar