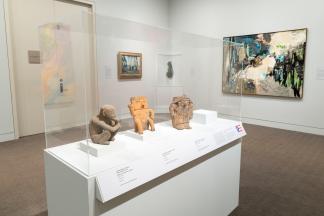 Guarding the Art will feature works from the BMA's collection, across eras, genres, cultures, and mediums, selected by guest curators from the BMA's Security department. As guest curators, the officers will collaborate with leadership and staff across the museum to select and reinterpret works. In addition, the team is working with renowned art historian and curator Dr. Lowery Stokes Sims, who is providing additional mentorship and professional development.
The exhibition was conceived earlier this year by BMA Trustee Amy Elias in conversation with Dr. Asma Naeem, BMA Eddie C. and C. Sylvia Brown Chief Curator, about ways to fulfill the Museum's commitment to be more diverse, more inclusive, and more representative of the community it serves. An inquiry was subsequently sent to all members of the BMA's security team to gauge their interest in developing an exhibition that would provide them with the unique opportunity to have their voices heard through their perspectives about the museum's collection.
The 17 officers who elected to participate are Traci Archable-Frederick, Jess Bither, Ben Bjork, Ricardo Castro, Melissa Clasing, Bret Click, Alex Dicken, Kellen Johnson, Michael Jones, Rob Kempton, Chris Koo, Alex Lei, Dominic Mallari, Dereck Mangus, Sara Ruark, Joan Smith, and Elise Tensley. The group reflects a broad range of backgrounds and interests with officers who are also artists, chefs, musicians, scholars, and writers.
Event Contact
Sarah Pedroni
443-573-1700
Event Details
Repeats weekly Sunday and Wednesday and Thursday and Friday and Saturday -- until Sunday July 10, 2022 -- except Sunday June 19, 2022.
Free
Location
Add Event To Your Calendar