Candlelight Concert Society's American String Quartet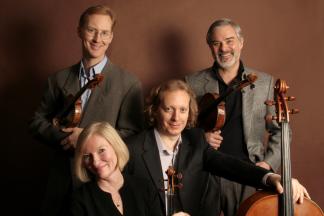 American String Quartet is best known for their "luxurious, beautifully sculptured performances" (The New York Times). Internationally recognized as one of the world's finest quartets, they have spent decades honing the sound for which they're famous.
In their 47 years as an ensemble, the quartet has appeared in the most important concert halls worldwide and presented the complete quartets of Beethoven, Schubert, Schoenberg, Bartók, and Mozart. They were hailed by The Washington Post for presenting a program that was "played as skillfully as it was constructed, with a finely calculated ensemble sound in which each player showed considerable individuality but all blended their strengths into a fine balance."
Octavio Vazquez is a composer noted for creating neo-romantic music which is "…a burning torch for the next century" (New Music Connoisseur). He is most passionate about creating music that delivers an "emotional impact and direct communication with the listener". He takes the stage with American String Quartet to perform his own piece, "Piano Quintet."
Vazquez's "Piano Quintet" relates to late 15th century event in his native Galicia. The piece explores themes of forced displacement, intolerance, and violence against "others" in relation to the historical persecution of Jews beginning in 1492 with the signing of the Alhambra Decree.
Enjoy American String Quartet's opulent sound in repertoire spanning over 100 years of compositional excellence.
TICKETS: $40; Students $10; Youth tickets are free with the purchase of an adult ticket!
Event Contact
Candlelight Concert
410-997-2324
Event Details
Sunday, May 22, 2022, 3:00 PM – 5:00 PM
410-997-2324
Location
Add Event To Your Calendar